Underground. Where else would you expect the to find the true blood and guts of the extreme metal scene? The filthiest, most brutal bands dishing out the most intense punishment are here, unfettered by here-today-gone-tomorrow trends or the temptation to conform to some notion of what a metal band should be. Suicide Silence, an astonishingly well-developed five-piece from Riverside, CA, USA, are a true product of that always thriving underground, a band single-mindedly focused on creating rabidly heavy and aggressive music.

Suicide Silence started in late 2002 as a side project for its members who were all involved in other local bands at the time. Things didn't get serious, however, until 2004, when the current lineup was solidified. Early on we were slower and sludgier, explains drummer Josh Goddard, but through a few member changes the sound became more powerful and energetic. This mix of musicians brought together their influences death metal, grindcore, black metal, hardcore, doom and combined them into songs that are complex without being mystifying, and savagely fast and explosive without becoming a featureless blur.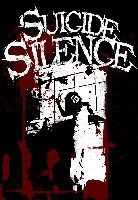 Their debut 5-song EP on In At The Deep End Records in the UK, licensed from Third Degree Records is a brutal testament to the sort of damage Suicide Silence is capable of inflicting. Though definitely rooted in what Goddard calls a fast-paced death metal style, it defies that genre's sometimes predictable conventions, striving instead for something more unique. The songs are dynamic and crushing, shifting effortlessly from insane grind chaos into total molten sludge, with plenty of dynamic twists and turns along the way. Vocalist Mitch Lucker screams, growls and grunts over an ungodly guitar assault, while the band's surgically precise rhythm section handles the disorienting time signatures and snail-paced grooves with equal efficiency.
It is a sound that, though well-manifested on their EP, is devastating live. Suicide Silence's breakdowns cause havoc in the pit, their blast-beats are neck-snapping and there is a palpable sense of barely controlled pandemonium when they play live. We don't hold back, says Goddard, and we try to give the crowd a show rather than standing around watching the moshpit and acting tough. The reputation they've staked as a fearsome live act has brought them the opportunity to play with bands as diverse as God Forbid, Impaled, Bury Your Dead and Between the Buried and Me. And touring fervently in support of every release is a given.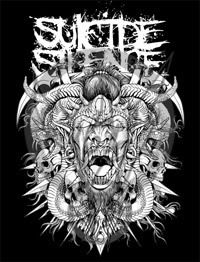 Suicide Silence may be a product of the burgeoning metal underground in the U.S., but their goals are far from modest. Without pandering to trends, or riding some scene's coattails, the band always wants to move forward, wherever it takes them. We never want to stop improving as a band, as individual musicians, as songwriters and as performers, says Goddard. We want to make sure that every album we put out and every show we play is better than the last.
SUICIDE SILENCE has dominated the metal world since arriving on the scene in 2005. Almost immediately, the Riverside natives caught fire and became a five-piece force of destruction, bludgeoning fans across the world with the strength of their two full-length records. It's now 2011 and the band is gearing up for its biggest campaign yet. SUICIDE SILENCE will soon be entering the studio with heavyweight producer Steve Evetts (Dillinger Escape Plan, Every Time I Die, Hatebreed) to create their most substantial piece of work to date. This summer, the yet-to-be-titled record aims to redefine heavy and further the band's dominating force within the extreme metal community.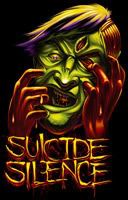 Following a long list of achievements, including a Revolver Golden God Award for 'Best New Talent', the band catapulted to the top of the metal world to become one of the most influential and respected young bands around. SUICIDE SILENCE has spread their infectious brand of metal across the globe, taking part in tours such as Vans Warped Tour, the Rockstar Mayhem Festival, Music as a Weapon IV and even the massive Download Festival in the UK. This year will see some of their best touring yet; having already confirmed Graspop, Vainstream, and other major European festivals, the band is now excited to reveal their participation in the 2011 edition of the Rockstar Mayhem Festival.
Clearly reminded of the sheer aggression and captivating performance of the band's 2008 appearance, the Mayhem Festival has invited SUICIDE SILENCE to return and unleash their punishing brand of metal to the masses. This special 2011 performance will feature a more elaborate stage show alongside an array of new music never previously performed and will certainly be the premier opportunity to witness the band lay waste across the country.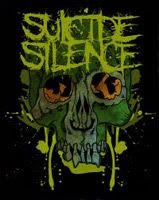 SUICIDE SILENCE has already landed the cover of Revolver, been named one of the '100 Bands You Need To Know' by Alternative Press and shifted nearly 200,000 records in a time where critics claim the music industry is dead. After two highly acclaimed studio albums and countless laps around the globe alongside the likes of Slipknot, Slayer, Megadeth, As I Lay Dying, Mudvayne and more, SUICIDE SILENCE has proven itself to be a truly dominant force in modern metal. Now, the juggernaut returns with its third-full length, which looks to push the extreme metal genre even further into the scope of music fans everywhere. Look for SUICIDE SILENCE to be in your face throughout the year regardless of where you live or what genre you pledge your allegiance to. SUICIDE SILENCE will find a way into your world in the future so be prepared to bang your head!